The search for the perfect bible is an interesting one. You will find yourself longing for something easy to read but you want something accurate. You want something that feels good, smells good and makes you want to sit down and read God's word. You, like myself, maybe a book lover in search of the perfect bible. Therefore, this had led to my library containing nearly 50 different bibles, different coverings, pages, sizes and versions.
NLT Red Letter
I choose the NLT for my daily driver because it's a Bible translation that is easy to read when I'm trying to have a session of "easy prayer" or relaxing reading and not hard studying. I recommend you get this Bible for your easy read sessions. The reason I choose NLT over NIV and other "easy to read" translations is simply that NLT does a good job of keeping the theological nuances intact while NIV deviates harshly in many areas.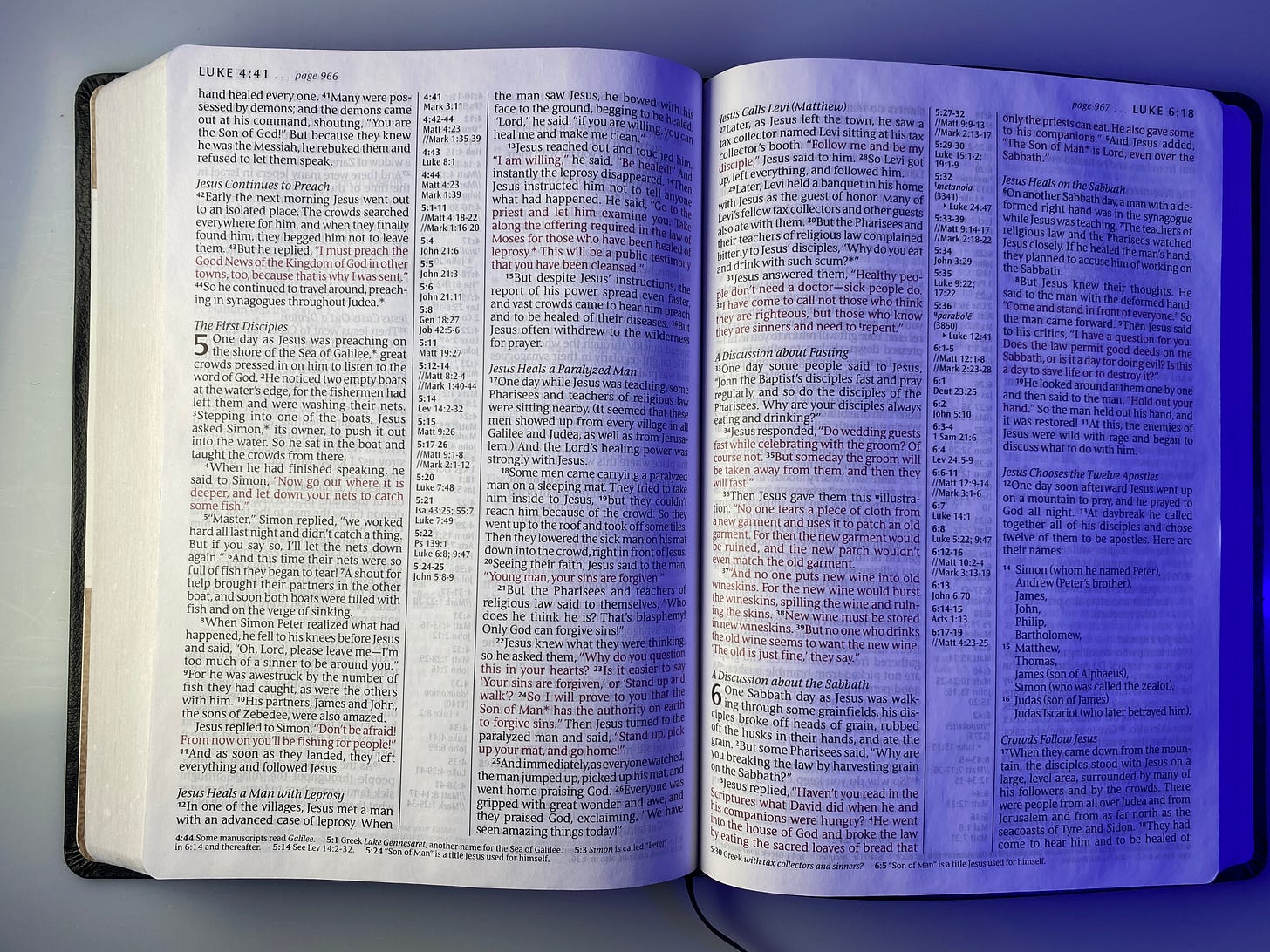 Faithlife Study Bible App
This may come as a surprise since this isn't a physical copy of a Bible at all but rather an app on your phone. This app is so useful for quick studies and references. I use it while I am church on Sundays and often throughout my week to get quick insights into the original languages. You can simply press and hold a word and the resources you have like BDAG will appear giving you a deeper insight into each phrase or word.
NASB Hebrew-Greek Keyword Study Bible
Now we're getting serious! This Bible is hefty but incredibly well designed. It allows for readers to quickly navigate books but also reference key words in every verse to study and dive deeper into. The back portion of this Bible is Old Testament and New Testament dictionaries numbered throughout the Bible so that you can quickly flip back and forth for context. In terms of a non-digital reference Bible, this is the go-to.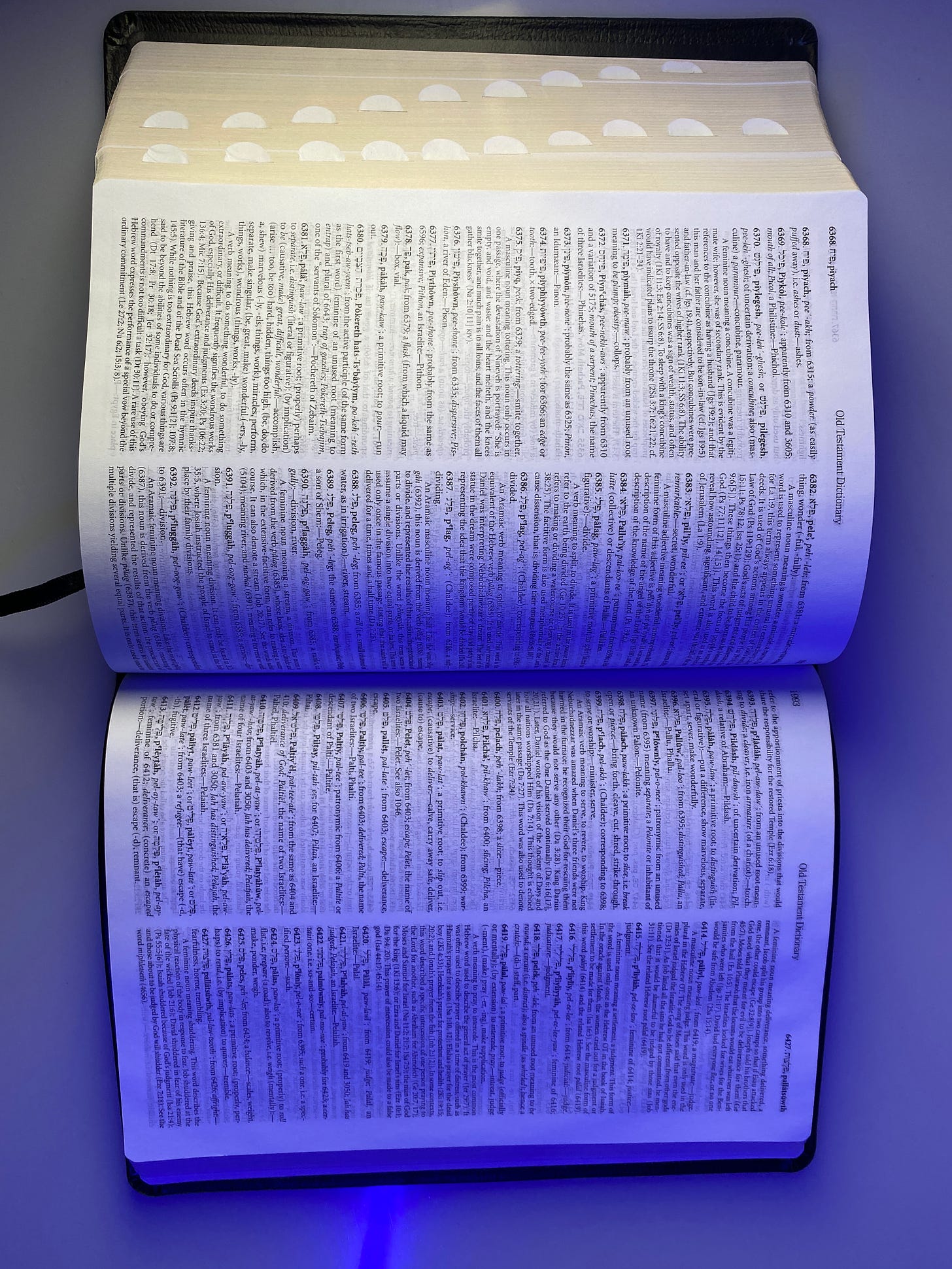 TIE! The NKJV Ancient Modern Bible and Custom Wrapped Giant Print NASB
The AMB is an amazing bible, super well made. This Bible gives quotes and snippets that are topical to each text but written by early church fathers or theologians from past centuries. It's an incredible read and the reason I tie it so closely to the top is because of how unique it is to the field of bible reading.
The Custom GP NASB is one that I have gotten through Etsy. I've gotten several Bibles custom wrapped through Etsy but I really enjoy the reading pleasure I have when reading from a Giant Print. I'm not old, but there is something great about letting the words do the work, not your eyes. I chose the NASB because of its accuracy and how accustomed I have become to reading it.
NET Bible Updated Edition
This Bible is a must-have whether you're a scholar or lay Christian. This is a vital work that has been done by some incredible translators seeking to be honest in their agenda. Now, I do not agree with all of their usages or translations, not by a long shot, however, the sheer mass of notes given to the reader allows the reader to better understand WHY things were translated a certain way and how you can better decipher a text for yourself.
I hope you've found this article helpful and enjoyable. I'm always eager to share what I use in my research, writing and Christian walk. Remember that every English translation is just that - a modern translation of an ancient text and nothing can replace learning and taking the time to understand the original languages.